Replacing one or more teeth with dental implants are great solution for people with missing or broken down teeth.
At her Pacific Palisades office, Dr. Emma and her team use advanced technology and techniques in implant dentistry to make your tooth implant look and feel so natural that it will seem to you and others like your natural tooth. With the dental implants skillfully placed by Dr. Emma, you'll be able to eat comfortably and smile confidently.
Unlike dentures or dental bridges, dental implants are anchored in the jawbone and given time to fuse itself to your jaw. An artificial tooth, or custom-fitted crown, is then fitted over the implanted anchor. Skillfully placed by Dr. Emma, implants allow for a natural, undetectable replacement for several teeth or a full set of dentures. This greatly improves your chewing ability, restores your natural smile, and provides a permanent solution.
Dental implants are also a great solution because they never decay. This means you'll never need a root canal for the teeth you're restoring. Dental implants also preserve your existing jawbone and gum tissue, and they prevent bone loss so that your facial contours are preserved.
PRECISE AND PAINLESS
Dr. Emma and her team in the Pacific Palisades use the latest technology to place your implants with precision and without pain. Through years of experience in implant dentistry, Dr. Emma can restore your beautiful smile.
ARE DENTAL IMPLANTS RIGHT FOR YOU?
Dr. Emma is happy to explain more about dental implants and see if you're a good candidate. If you are considering dental veneers, call us to schedule a free consultation with Dr. Emma at her office in Pacific Palisades.
---
IMPLANT DENTIST DR. EMMA KIM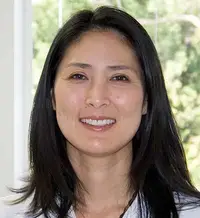 Dr. Emma has been providing personalized attention and outstanding dental care for the Pacific Palisades and surrounding communities since 2000. A graduate of the prestigious Tufts University School of Dental Medicine, Dr. Emma combines gentle dental care with her extensive focus on advanced clinical skills.

As a busy mom, Dr. Emma understands the time constraints for dental appointments. Her office is open for appointments for evenings and Saturdays, providing greater flexibility for today's busy adults and families.
Whether it be fears of dental work, financial concerns, or wanting a better smile, you can be assured that Dr. Emma will listen and serve your needs.
EDUCATION
AFFILIATIONS
---
Schedule a Consultation
If you would like to know if you are good candidate for dental implants, call us to schedule an appointment.
(310) 454-4316